Security is all about keeping your items safe. The same applies to your computer and all other devices. Cyber Security or computer security is the protection of computer systems and networks from information disclosure, theft, or damage to their hardware, software, or electronic data, as well as from the disruption or misdirection of the services they provide.
Protecting your computer from hackers, and people who want to do you more harm than good by taking your information and making dreadful use of it. To learn and be certified in this field, you have to take training and write exams to acquire your certification. This article explains the question "How Much Is Cyber Security Certification in Nigeria?".
As of today (2022), CyberSecurity Certification in Nigeria costs about ₦50,000 to ₦900,000 in Nigeria. This is usually dependent on certain factors that will be listed in the table below.
| | | |
| --- | --- | --- |
| Level of Training | Training Cost | Certification Examination |
| CompTIA Network+ | ₦50,000 | ₦208,800 |
| CompTIA Security+ | ₦50,000 | ₦228,600 |
| Systems Security Certified Practitioner (SSCP) | ₦60,000 | ₦149,400 |
| CompTIA Cyber Security Analyst (CySA+) | ₦60,000 | ₦222,000 |
| Certified Information Systems Security Professional (CISSP) | ₦100,000 | ₦419,400 |
| Certified Information Security Manager (CISM) | ₦100,000 | For ISACA Members ₦345,000 and for Non-Members ₦456,000 |
| Certified Ethical Hacker | ₦100,000 | ₦719,400 |
Note: This doesn't mean you have to take all these examinations to become a cybersecurity expert, you can always choose any of the courses listed in the table above. But it is always advisable to have enough certifications, it proves that you are truly an expert in that field.
How can I get into cybersecurity with no experience?
Learn the fundamentals of technology and information security.
Self-study is one of the most effective strategies to improve your security knowledge. I advise studying and gaining the abilities you'll need to lay a solid basis for your future academic aspirations.
You can also reach out to training institutes to train you on the fundamentals of cybersecurity if you need a tutor or more materials. You can take the CompTIA N+ and CompTIA S+ training. I talked about how this course can help in How Much is CompTIA training in Nigeria?
Focus your efforts on obtaining your objective.
When you've decided to look for your first cybersecurity job with no experience, it's critical to focus your time and efforts on your goal. I suggest removing distractions so you may concentrate on getting the abilities you need to get the career you want.
Spend the majority of your time researching, practicing the hands-on skills required for the certification exam, taking notes, and compiling a comprehensive database of material to show yourself all you've learned. Be deliberate about how you spend your time since you know what you need to do to make the move successful.
Demonstrate your existing abilities.
If you've worked in a field other than cybersecurity, you probably already have some of the in-demand professional essential skills in this field. You may be gaining the hands-on technical skills that many employers are seeking, but you have other areas of experience that can be useful in a cybersecurity career. Plus they said no knowledge is a waste, so there would always be a time to apply your other knowledge/experience even in cybersecurity.
Consider how you might promote your previous experience in a different field when seeking your first cybersecurity job. Are you an expert at fixing problems? Are you able to work independently? Do you have excellent communication abilities? What skills do you have that match what employers want in a cybersecurity professional?
Acquire certificates that demonstrate your expertise.
To get your first job in cybersecurity with no experience, you'll need hands-on experience. As a result, you should enroll in a boot camp, our mentors and trainers are always willing to assist.
Employers admire certifications that demonstrate your abilities, and they frequently consider it when making recruiting decisions. Certifications are a great method to show potential employers your skillset and knowledge base. Earning a certification also demonstrates to employers that you're eager to go above and above to learn new things and broaden your skillset.
Develop a solid network of cybersecurity experts
Always make efforts to strengthen those connections and meet new individuals, this will allow you to learn more about the sector and receive advice and direction on your career path.
It's essential to have a strong network of individuals to help you navigate the waters when you're starting in a new field. Networking with security professionals is an excellent method to learn from their wins and mistakes. It can also assist you in developing relationships that may lead to future employment chances.
Attend a cybersecurity conference to expand your network. Local community chapters receive sponsorship from cybersecurity groups to help them run their conferences and gatherings.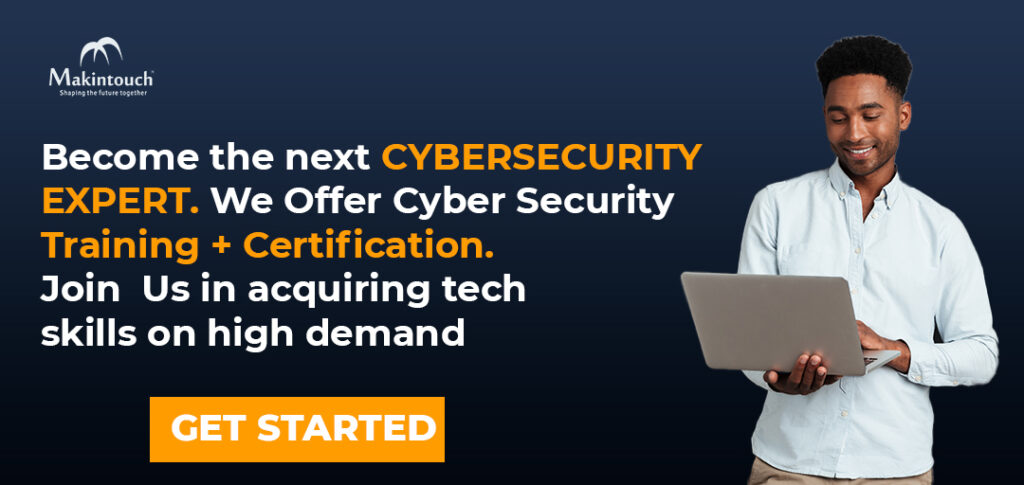 Can a Cybersecurity expert become a hacker?
Yes, a cyber security expert is already an expert and the best hacker because he understands a lot about security and its evolution while also being aware of the system's flaws and bugs.
This implies that as a cybersecurity expert that wants to advance into hacking, you will have to take more certifications. I will recommend the Certified ethical hacking course for you, you can also make more research on how to advance from being a cybersecurity expert to a certified hacker.
Do you need to know how to code for cyber security?
Coding skills are not necessary for the majority of entry-level cybersecurity positions. However, coding may be required to grow in the field as cybersecurity experts seek mid or upper-level employment.
How much does an IT security earn in Nigeria?
In Nigeria, a person working in IT security earns roughly ₦184,000 to ₦500,000 per month on average.
This is the monthly average pay, which includes housing, transportation, and other amenities. Salaries for various IT Security jobs fluctuate dramatically. See below for a list of job roles and salary ranges for IT security.
| | |
| --- | --- |
| Job Titles | Salary range |
| Chief Information Security Officer | ₦200,000 – ₦450,000 |
| Cross-Platform Security Manager | ₦260,000 – ₦450,000 |
| Data Security Manager | ₦270,000 – ₦485,000 |
| Information Security Administrator | ₦281,000 – ₦500,000 |
| Information Security Analyst | ₦208,000 – ₦500,000 |
| Information Security Engineer | ₦234,000 – ₦500,000 |
| Information Security Manager | ₦296,000 – ₦500,000 |
| Information Security Specialist | ₦208,000 – ₦500,000 |
Register with us Now!
Now that you know the cost of cyber security certification in Nigeria.
You can visit our website www.makintouchconsulting.com for more information about cyber security courses we will assist you with your certification process and you can also speak to our customer service if you are not satisfied with the information on the website and still need more information, we are always there for you.
Makintouch Consulting is a training organization that takes training and certifications for courses like this, you can easily check us out at 24, Bamishile street, off Allen Road, Ikeja, Lagos.
If you would like to take your cybersecurity certification, you can visit our page and register with us now!