Cisco Certified Network Associate (CCNA) is one of the most recognized certifications in the global world today. Professional certification is becoming very important in getting your dream job in today's world, especially in Nigeria. Having your bachelor's degree might not be enough to get you your dream job, you need to add certifications with your degrees to have the upper hand over other employees. CCNA certification should be one of the certifications you should be aiming at if you fall in this category. This article explains "how much is Cisco certification in Nigeria?".
Cisco certification in Nigeria cost about ₦70,000 to ₦930,000 depending on the level of certification you're taking.
There are different categories of CCNA certifications and I would be listing them along with the cost of their exams.
Entry-level: This is the entry-level course for beginners that consist of the Cisco Certified Technician (CCT). The CCT is divided into two categories; CCT Datacenter, CCT Routing, and switching. These courses cost ₦75,000 each.
Associate level: This level helps to enhance the skills of the network engineers and it consists of different certifications, some of which include DevNet Associate, CCNA, and CCNA CyberOps. These courses cost ₦117,000 each.
Professional level: This level is the next CCNA certification category after the entry-level and associate level, it consists of two examinations, one being the core examination and the other being the concentration examination.
The DevNet Core Professional course costs ₦240,000 while DevNet Concentration Professional course costs ₦180,000. The CCNP Enterprise Core certification examination ₦240,000 while the CCNP Enterprise Concentration Certification exam costs ₦180,000.
Expert level: This is the highest level of the Cisco certification, at this point, candidates must show a high level of understanding of network systems to be able to get this professional certificate. The following courses below are the certification level for the expert level.
| | | | |
| --- | --- | --- | --- |
| Course Title | Core Examination cost | Lab Examination cost | Total |
| CCIE Enterprise Infrastructure Certification | ₦240,000 | ₦960,000 | ₦1,200,000 |
| CCIE Enterprise Wireless Certification | ₦240,000 | ₦960,000 | ₦1,200,000 |
| CCIE Collaboration Certification | ₦240,000 | ₦960,000 | ₦1,200,000 |
| CCIE Data Center Certification | ₦240,000 | ₦960,000 | ₦1,200,000 |
| CCIE Security Certification | ₦240,000 | ₦960,000 | ₦1,200,000 |
| CCIE Service Provider Certification | ₦240,000 | ₦960,000 | ₦1,200,000 |
| CCDE Certification | ₦270,000 | ₦960,000 | ₦1,230,000 |
This table explains how much it costs at all levels to acquire a Cisco certification in Nigeria.
5 Reasons why Cisco certification is worth it.
Your networking knowledge is certified with a Cisco certification.
Cisco certifications are available in a variety of technologies and protocols. You can learn how to install, configure, operate, and troubleshoot routed and switched networks by earning a Cisco certification. A Cisco certification also equips employees with the knowledge and skills needed to deal with problems in real-world situations, including the demands and hazards that come with network deployment and maintenance in large enterprises.
A Cisco Certification Gives You a Job with a better Salary.
With a CCNA certification, you are almost a boss of your own. You can earn as much as $100,000 annually.
CCNA employees can make up to $118,830 per year on average, according to the InfoSec Institute. According to a recent PayScale report, certified network engineers specializing in Cisco networking earn between $50,971 and $101,017 annually.
Cisco Certified Professionals are appreciated by employers.
Your Cisco Certifications validate that you have a certain level of knowledge and skills because you must have undergone the networking and troubleshooting training and written the exam. Certain enterprises (particularly Cisco partners) ie. Makintouch consulting prefers to hire Cisco certified employees over non-certified employees. Furthermore, the more certificates you earn, the higher your salary.
Cisco Certification prepares you for new career opportunities.
When it comes to the positions that you'll be eligible for and offered, a Cisco certification puts your career on a good path, which means that your job profile will become more visible. You'll be able to do a wide range of networking activities at a higher level, with more responsibilities and task accountability.
Cisco Certification gives you Confidence in your job.
Certification provides additional confidence in one's ability to execute the work, as well as the benefits that come with it. This can lead to even more advancement and self-assurance.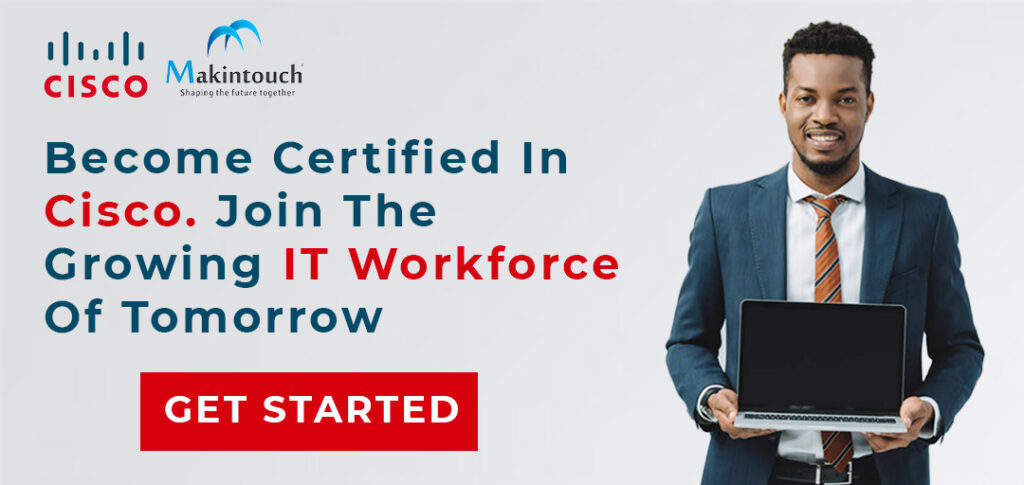 How much do you get paid with a CCNA certification?
With a CCNA certification, you will be earning much more than you were earning before. The salary range differs, it depends on the level of certification that you have as an employee. This table will be explaining further the job roles, certification, and salaries.
| | |
| --- | --- |
| Job Roles | Average Salary |
| Network Architect | $118,000 |
| Information Technology director | $108,000 |
| Snr. Network Engineer | $102,000 |
| Cyber security analyst | $79,000 |
| Information technology Manager | $87,000 |
| Network Engineer | $76,000 |
| System Engineer (Computer Networking/IT) | $76,000 |
| Systems Administrator | $66,000 |
| Network Administrator | $63,000 |
How long is CCNA valid?
CCNA Certification is valid for just three years after your date of issue.
Before your CCNA credential expires, you must complete renewal processes. The CCNA is a network security certification that has two options for renewal. The conventional exam is the first option for recertifying. The second, and more recent, an option is to gain CE (Continuing Education) credits.
Step Up Now!
Now that you know how much it costs to acquire a Cisco certification in Nigeria.
You can visit our website Makintouch Consulting for more information about Cisco certification. Makintouch Consulting is also a partner with Cisco so you can get more information from our certified instructors.
Makintouch Consulting is a Leading I.T & Business Management Training Provider in Africa. Sharpen your skills with in-depth classroom and on-demand training offered by Vendors and taught by Certified Trainers. Jump-start your career, and validate your skills in a job role with industry-recognized certifications.
If you would like to acquire a Cisco certification, you can visit our page and register with us now!