CompTIA (The Computing Technology Industry Association) is the leading provider of vendor-neutral IT certifications in the world. They provide training and certifications who are interested in their courses.
In Nigeria, we have a lot of organizations that are partners with CompTIA, all these organizations do is bring the training closer to us, instead of us having to go far away from our country to earn a certification, which could be quite stressful and financially consuming.
However, aspiring IT professionals also want to know the cost of a CompTIA certification and how much money they can make with CompTIA certification. That's what this article talks about.
CompTIA Certification cost varies, this table below explains better.
Technology Solution Provider Membership Options and Annual Dues
| | | |
| --- | --- | --- |
| | CompTIA Corporate Membership Only | CompTIA ISAO + Corporate Membership |
| Dollar Rate | $350 | $850 |
| Converting to Naira | $350 x ₦600 = ₦210,000 | $850 x ₦600 = ₦510,000 |
Also read: How Much Is Cyber Security Certification in Nigeria?
What Job Can You Get With a CompTIA Certificate?
If you decide to choose the CompTIA certification path, many IT positions may be waiting for you. You can get the following jobs if you have a CompTIA Certificate.
Support Management
According to CompTIA itself, 29.8% of its certificate holders are settled in support, service, and help desk management jobs. These are positions such as
Field service technician
IT support manager
Help desk technician
IT specialist
Technical support specialist
To get a Job role in any of these, you need to get the A+ certificates. CompTIA A+ is an entry-level certification that requires no prior work experience. It covers the basics of computer hardware and software, networking, operational procedures, and even cybersecurity.
IT Infrastructure
Every organization requires a solid infrastructure of their network and new technologies they might want to implement. It is said that 17.4% of those with a CompTIA certification work as systems analysts. They establish a good foundation for a network system or any software or technology an organization might need.
To get an IT Architect job in this part, you will need to pass exams like CompTIA Network+, CompTIA Security+, and CompTIA Cloud+. These will help you deepen your understanding of troubleshooting, configuration, management, information security, virtualization, and cloud computing.
These are positions available for persons who have passed the CompTIA Network+, CompTIA Security+, and CompTIA Cloud+ exams.
Network support specialist
Systems engineer
Systems analyst
Security administrator
Cybersecurity specialist
Cloud engineer
Network administrator
Systems administrator
Network engineer
Cloud architect
Cloud developer
Solution architect
Cyber Security
In an organization where there is a lack of cyber security, it could be a huge problem that can affect the lifespan of that business. You can defend your organization with skills like the CompTIA Cybersecurity Analyst (CySA+) or offensive skills with the PenTest+ meant for penetration testers or ethical hackers. As someone interested in this, you can also dive into both paths and become a well-rounded cybersecurity expert.
Here are some job positions you can obtain with these certificates:
Application security analyst
Cybersecurity analyst
Security engineer
Security operations center (SOC) analyst
Threat hunter
Penetration tester
Threat intelligence analyst
Vulnerability assessment analyst
Network security operations
Applications security engineer
Chief information security officer (CISO)
Security Architect
Technical lead analyst
Server and Data Management
Large organizations need IT professionals to help them organize their data and extract what's important to their operations.
You should get certified in CompTIA Linux+ and Server+ exams for a job in the data and server branches. They will help you understand everything you need to know about data storage, Linux operating systems, and other relevant topics.
That's why a large group of IT professionals hold these positions:
Database administrator
Data scientist
Linux administrator
Web administrator
IT/Server technician
Server administrator
Server support technician
Storage administrator
Human Resources and Management
With specific CompTIA certifications you can be employed in HR or management positions, but with specific CompTIA certifications.
These positions are at the crossroads of IT and human resources or IT and project management. Plenty of processes and human resource activities happen electronically, and thus businesses require IT people to make them function smoothly.
To apply for this HR and Management role, you need to have successfully taken the CompTIA Project+ or CompTIA Cloud Essentials+ certification exam and passed.
You can become any of these:
Business analyst
Project coordinator/manager
Project team member
Manager, Director, Team Leader
Business development manager
Managed service provider (MSP) personnel
Technical support staff
How Long Does the CompTIA A+ Certification Last?
CompTIA A+ certification is valid for three years from the date you pass your certification exam.
You can easily renew CompTIA A+ and extend it for additional three-year periods.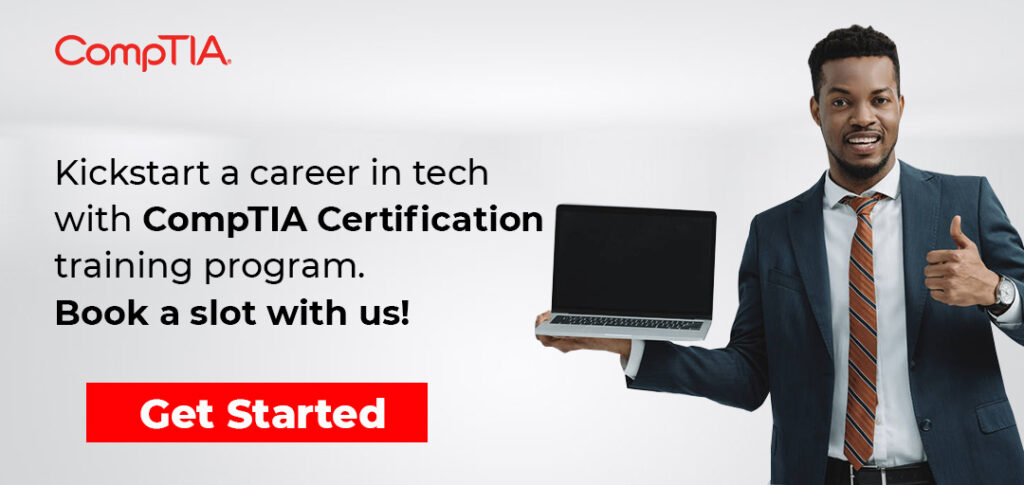 Benefits of CompTIA Certification
With a CompTIA certification, it is guaranteed that your career will be boosted whether you are a beginner or at an advanced level. This certification proves that you have an understanding of computer software and hardware both internally and externally. You can also troubleshoot virtually any device.
With a CompTIA certification, you can choose to work remotely or hybrid
Information Technology (CompTIA) is giving this flexibility to employees where they can work from any location. So having a CompTIA certification gives you the upper hand to work from any location of your choice depending on the organization you are working with.
If you have completed and gotten your CompTIA certification, it is expected that you are treated differently amongst other employees without certification and you attract highly reputable organizations. Organizations like Microsoft, IBM, and HP hire people who are proficient in these courses because these companies often require their employees to be proficient in these certifications
Lucrative monetary benefits
Over time, it has always been a testimony from employees with this certification to be rewarded well, received promotions and other monetary benefits from organizations where they work.
For any business, regardless of size, migration is an enormous, far-reaching task that requires a significant investment of time and money. For cloud professionals tasked with moving business operations to the cloud, it is imperative that they understand the different aspects of the cloud and how they all fit together.
CompTIA-certified and trained cloud professionals can gain insight into their work and work with other departments to deploy a functional cloud platform in their organization with significant cost and time savings significantly, as well as reducing the need for labor because CompTIA-trained people are more productive.
Requirement for advanced certification from leading vendors
For decades, CompTIA has been the leading vendor-neutral provider of various IT-related certifications. Since CompTIA Certifications cater to professionals as well as individuals with no experience, it is excellent foundational credibility for beginners.
With a CompTIA certification, it is easier for a beginner to advance to other levels of certifications. This individual must have learned about the basics of any other certification the person wants to take and also has a certification to prove it.
Step Up Now
Now that you know the cost of CompTIA certification in Nigeria.
What is stopping you from taking that next step?
Makintouch Consulting is a training organization that takes training and certifications for courses like this, you can easily check us out at www.makintouchconsulting.com.
Makintouch is also the only accredited training partner with AWS in Nigeria. Therefore, you can contact us for your CompTIA certification alongside other certifications too.
If you would like to take a CompTIA training program before taking the certification, you can visit our page and register with us now!