CERTIFIED ETHICAL HACKER
v.11
CEH v11 will teach you the latest commercial-grade hacking tools, techniques, and methodologies used by hackers and information security professionals to lawfully hack an organization. CEH provides an in-depth understanding of ethical hacking phases, various attack vectors, and preventative countermeasures. It will teach you how hackers think and act maliciously so that you will be better positioned to set up your security infrastructure and defend future attacks. Understanding system weaknesses and vulnerabilities help organizations strengthen their system security controls to minimize the risk of an incident.
CEH was built to incorporate a hands-on environment and systematic process across every ethical hacking domain and methodology, giving you the opportunity to work towards proving the required knowledge and skills needed to perform the job of an ethical hacker. You will be exposed to an entirely different posture towards the responsibilities and measures required to be secure. In its 11th version, CEH continues to evolve with the latest operating systems, tools, tactics, exploits, and technologies.
Why is the certification so sought-after?
EC-Council CEH® v.11 certification provides the impetus to enter the information security domain and certifies individuals in various information security skills. Many IT companies have made CEH certification a compulsory qualification for security-related posts making it a go-to certification for security professionals. 
Legal Agreement
Ethical Hacking and Countermeasures course mission is to educate, introduce and demonstrate hacking tools for penetration testing purposes only. Prior to attending this course, you will be asked to sign an agreement stating that you will not use the newly acquired skills for illegal or malicious attacks and you will not use such tools in an attempt to compromise any computer system, and to indemnify EC-Council with respect to the use or misuse of these tools, regardless of intent. Not anyone can be a student the Accredited Training Centers (ATC) will make sure the applicants work for legitimate companies.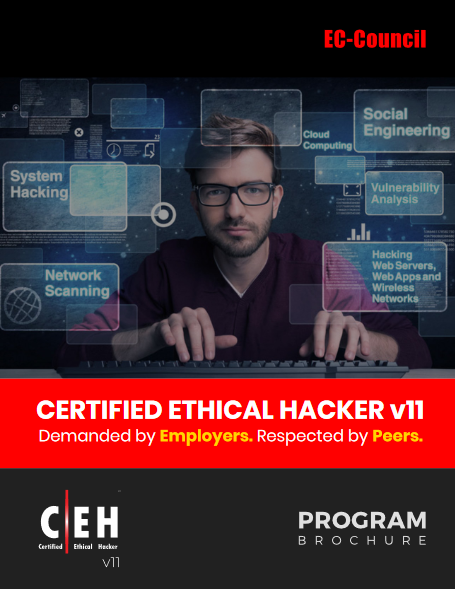 After completing this course, students will be able to:
Plan and implement an IPv4 network.
Implement Dynamic Host Configuration Protocol (DHCP). Implement IPv6.
Implement Domain Name System (DNS).
Implement and manage IP address management (IPAM).
Plan for remote access.
Implement DirectAccess.
Implement virtual private networks (VPNs).
Implement networking for branch offices.
Configure advanced networking features.
Implement Software Defined Networking.
Basic know-how of Networking

Basic Knowledge of Server and Network Components
Information Security Analyst / Administrator
Information Assurance (IA) Security Officer
Information Security Manager / Specialist
Information Systems Security Engineer / Manager
Information Security Professionals / Officers
Information Security / IT Auditors
Risk / Threat / Vulnerability Analyst
System Administrators
Network Administrators and Engineers
Module 1: Introduction to Ethical Hacking
Module 2

:

Foot-printing and Reconnaissance
Module 3:

Scanning Networks
Module 4:

Enumeration
Module 5:

Vulnerability Analysis
Module 6

:

System Hacking
Module 7

:

Malware Threats

Module 8:

Sniffing
Module 9:

Social Engineering
Module 10:

Denial-of-Service
Module 11:

Session Hijacking
Module 12:

Evading IDS, Firewalls, and Honeypots
Module 13:

Hacking Web Servers
Module 14:

Hacking Web Applications
Module 15:

SQL Injection
Module 16:

Hacking Wireless Networks
Module 17:

Hacking Mobile Platforms
Module 18:

IoT and OT Hacking
Module 19:

Cloud Computing
Module 20:

Cryptography
What Our Students Have to Say
"As a client of Makintouch, I would recommend the company as a leading PC-based training school. When we needed half day courses to fit the schedules of our employees they were able to customize them to meet our company's needs" – Java Struts
I would recommend this course as it is up to date with the current release which is quite rare as things move on so fast. The classroom set up worked well and the labs were good and relevant to the course.' – Oracle