On the 2nd of January 2021, the newest edition of the PMP Certification was launched, bringing several changes to the initial PMP Certification Exam.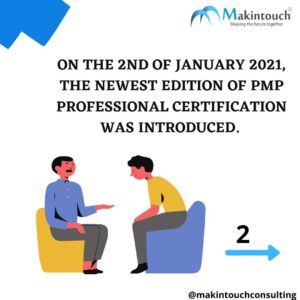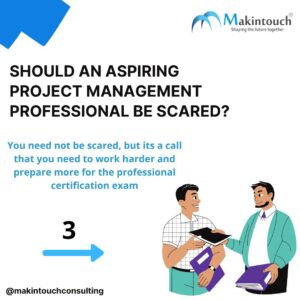 Should an Aspiring Project Management Professional be scared?
You need not be scared, but its a call that you need to work harder and prepare more for the professional certification exam. 
Working closely with heads of projects, subject matter experts from organizations and directors of industries, the PMI has realized from their routine research which they do every 3-5 years, to understand the various progress in professions, the impact of emerging trends and the changes in responsibilities of project managers across various works of life, that there is an increasing change in the responsibilities of project Managers, hence the need for an updated version of the certification. 
This new upgrade agrees to the fact that project management professionals need diverse skills and approach in the new management trends for projects.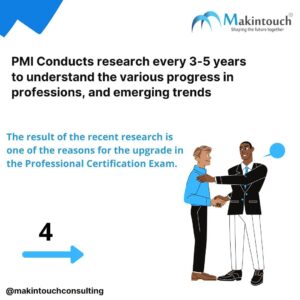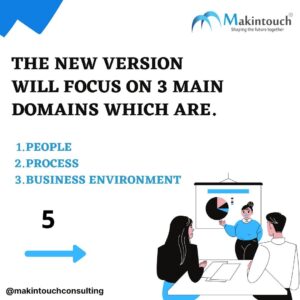 The new version will focus mainly on 3 new domains, which are
PEOPLE: emphasizing the skills and activities associated with effectively leading a project team
PROCESS: Reinforcing the technical aspects of managing projects
BUSINESS ENVIRONMENT: Highlighting the connections between projects and organization strategy. 
WHAT SHOULD I EXPECT IN THE NEW EXAM?
The new exam is comprised of:
180 questions (the previous exam was 200) but the same number of questions will be scored

230 minutes to complete the exam

One additional break for a total of two 10-minute breaks for computer-based tests. No scheduled breaks for paper-based exams.

Questions will be a combination of multiple-choice, multiple responses, matching, hotspot and limited fill-in-the-blank.
WHAT MORE DO I NEED TO KNOW? 
Chances are that the new exam is harder: This simply means that you need to prepare more because more new content has been introduced.

Most of the questions will now be an agile and hybrid approach, so much practical grooming and on-site participation are recommended before the exams. 

Make sure you study, using the updated materials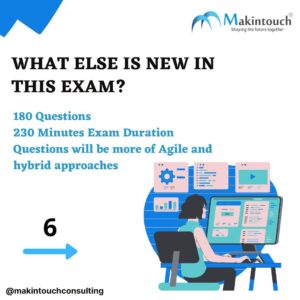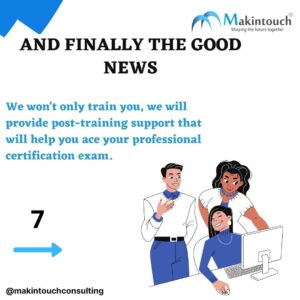 At Makintouch Consulting, we are offering a discount with special pre-exam support for the first set of students that will be participating in the newly upgraded PMP at either our online-live class session or our physical class. 
You can be a part of our training and professional certification examination this January 
| | | | |
| --- | --- | --- | --- |
| Course | Training dateJanuary  | February | March |
| Project Management Professional  | 11th – 15th  | 15th – 19th  | 8th – 12th  |
| Certified Associate In Project Management  |   | 8th – 12th  |   |
| Program Management Professional  | 4th – 8th  | 1st – 5th  |   |
|   |   |   |   |