Like developed countries across the world, Nigerian professionals must be willing to adapt to the experience of leadership skills and achieve project objectives within a limited timescale and budget. A project management certification shows that you have the relevant skills needed to execute projects from start to finish. This article explains how much it costs to acquire a project management certification in Nigeria.
Presently, the best professional certifications in Nigeria belong to the tech industry, those guys are making money. The world is going cloud and for this to work in Nigeria
Currently, Project Management Certification costs between the range of ₦50,000 to ₦400,000 depending on some factors like:
Member of PMI including training fee
Non-member of PMI including training fee.
How do I become a certified project manager in Nigeria?
Regardless of how co
To become a Project Manager, a bachelor's degree in business or a related field, as well as solid background knowledge and experience in business, could help you. However, this is not a requirement.
Project management helps you gain skills like project planning, budgeting, and team development.
When starting as a project manager, you can make do of internship opportunities while taking a project management certification training.
Take professional opportunities, then take the certification examination like Certified Associate in Project Management (CAPM) or Project Management Professional (PMP) from Makintouch Consulting. These certifications prove that you have the knowledge and expertise to succeed in a project management role and can help you differentiate yourself in the workforce.
How much does a Project Manager earn in Nigeria?
Project Managers in Nigeria earn between ₦198,000 to ₦647,000 per month. Salaries vary based on experience, skills, or location.
Which profession does PMP Certification expire?
Yes, it does expire.
PMP certification is valid for 3 years. At the end of these three years, certified project management professionals must renew their qualifications to benefit from this certification. If you do not meet the renewal requirements, your certification will be suspended.
Also read: How Much Is HR Certification in Nigeria?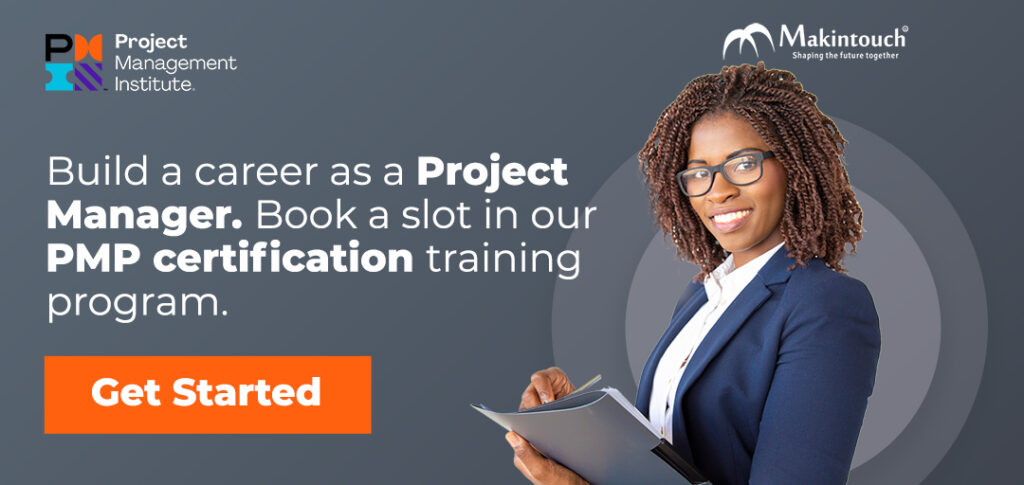 Are professional certifications important in Nigeria?
Regardless of how competent or experienced you are, a lack of professional certifications by global certification bodies could prevent you from stepping up in your career.
Therefore, professional certifications are important even in Nigeria.
Are project managers in demand in Nigeria?
Yes, Project Managers are in high demand in Nigeria.
Project management is a very lucrative field. This is major because while there are a lot of project management jobs available in Nigeria, there is a lack of individuals with project management skills across the country.
The Project Management Institute (PMI®) expects 22 million new project management job openings through 2027. Project managers are needed in a wide variety of industries.
What are the benefits of PMP certification?
A PMP certification can help you showcase your skills and get your work globally recognized. It allows you to prove your experience and competencies to lead and direct projects. Gaining a PMP certification can prove to be an investment in your professional and personal development.
Accepted Worldwide
You can work anywhere in the world if you have a PMP Certificate. It is universally recognized and acknowledged, so you won't have to worry about learning new procedures when working in other places around the world. Your skills will be in demand all across the world.
Project Managers who are certified earn higher wages than non-certified project managers.
When you look at the many job opportunities available, you'll notice that many of them have a PMP requirement or prefer a certified professional.
A PMP certification can help you advance in your job and earn more money. In comparison to non-certified project managers, you are more likely to receive a raise in your present salary if you have a PMP certification.
Assist You in Becoming a More Effective Project Manager
You would have a better understanding and ability to manage projects as a project manager.
Project management credentials can assist you in learning and implementing the most up-to-date project management technologies.
It helps you appear as someone well-versed in industry best practices as well as having hands-on implementation expertise.
Helps improve the professional network
You can benefit from networking with other PMP-certified professionals if you have a PMP certification.
You'll have the opportunity to network with people who have comparable credentials, interests, or backgrounds to you.
When looking for a new career, this professional network can be beneficial.
It looks very good on your CV.
A PMP certification can strengthen your CV and make you more visible to potential employers all over the world. It will greatly strengthen your CV and position you as a strong prospect when you apply for a new job.
Which PMP certification is the most recognized?
The Project Management Professional (PMP) credential from the Project Management Institute (PMI) is the most popular and well-known. However, PMI offers a variety of other certifications that are appropriate for individuals at different phases of their employment. They're;
1. Project Management Professional (PMP)
The PMP is one of the most prominent and well-recognized qualifications in this industry, with over a million certificate holders worldwide. The certification procedure comprises a challenging exam that assesses your knowledge of people management, process management, and business decision-making.
This is a great option for individuals who have some project management expertise and wish to advance in their jobs.
To sit for the exam, you must have 36 months of experience in project management if you have a bachelor's degree, or 60 months if you have a high school diploma or associate degree. In addition, you'll need to complete 35 hours of project management coursework or training.
2. Certified Associate in Project Management (CAPM)
People who want to manage projects, take on additional responsibility, or add project management abilities to their CV should take the CAPM. The CAPM is available to project management professionals at any point of their employment, making it an excellent choice for those just getting started.
This certification is best suited for project associates or executives and any professional aspiring to start a career in project management.
To be qualified for this training, you should have a secondary degree (high school diploma, associate's degree, or the global equivalent) and 1,500 hours of professional project experience.
3. PMI Agile Certified Practitioner (PMI-ACP)
The PMI-ACP validates your knowledge in Agile project management, a methodology that stresses short sprints and adaptability.
It demonstrates your actual, hands-on experience and ability as a member of an agile team.
This is useful for project managers who have some Agile experience and want to use Agile in their teams or organizations.
The Prerequisites include 21 hours of training in Agile, one year of general project experience in the last five years (or a current PMP or PgMP certification), and at least eight months of Agile project experience in the last three years.
4. PMI Risk Management Professional (PMI-RMP)
The PMI-RMP is designed to validate the risk management skills of advanced professionals. PMI-RMPs will be able to prove that they are prepared to assess and mitigate risk in large or complicated projects.
This training is good for risk management professionals with several years of experience
The requirement for this course is a high school diploma, associate degree, or an equivalent credential, you'll need to have 36 months of experience managing project risk in the last five years, plus 40 hours of project risk management education. With a four-year degree, you'll need 24 months of project risk management experience in the last five years, and 30 hours of project risk management education.
I hope I've served you well today and you now know the cost of PMP certification in Nigeria. If yes, then let's move to the last step.
Makintouch Consulting is a leading IT & Business Management Training provider in Nigeria. We are constantly providing world-class training, using the best technologies and professionals.
We are certified Partners to Microsoft, AWS, Cisco, CompTIA, Loyalist exams (AXELOS), Wiley, Tomwims(APMG), Open Group, and members of DPR, NSITF, OGTAN, NIWIIT, WITSA, ITAN, and many more prestigious professional bodies.
Why not contact us today to register for your PMP certification training.
If you would also like to learn more about other training programs, you can visit our page www.makintouchconsulting.com