An organization is only as good as the human beings who run it. Therefore, companies across aim to hire competent and passionate professionals. However, the first step in doing this is to hire professionals who can identify said competent and passionate professionals. Professionals skilled at hiring people and getting the best out of them are human resources (HR) professionals. Competent HR professionals take global certification exams to validate their expertise. This article highlights how much it costs to acquire an HR certification in Nigeria.
Getting an HR certification in Nigeria costs between ₦50,000 and ₦650,000. This usually depends on the certification body offering the HR certificate you want. Another important factor that determines your HR certification cost is whether you want to get training by a recognized HR training company or you want to go it alone.
Is hr a great career path in Nigeria?
Yes, a career in HR is great for professionals in Nigeria. It is a lucrative career path in terms of both finance and connections.
However, a career in HR is advised for people who;
Are empathetic and can influence others
Seek growth and can handle change
Are analytical and interested in business growth
Are not scared to negotiate if necessary
Love learning about professionals working in various industries
Also read: How Much is Web Design Training in Nigeria
How much do HR professionals earn in Nigeria?
The table below shows the average amount HR professionals in Nigeria earn per month. From the lowest earners in the entry-level jobs to the highest earners in the senior-level HR jobs;
| | |
| --- | --- |
| Position | Salary |
| Staffing Coordinator | ₦50,000 |
| HR Assistant | ₦60,000 |
| HR Officer | ₦80,000 |
| HR Analyst | ₦90,000 |
| HR Manager | ₦120,000 |
| HR Director | ₦250,000 |
| Chief HR officer | ₦380,000 |
| Vice President, HR | ₦550,000 |
*Majority of the companies owned by Nigerians hire HR officers, HR Executives, and HR managers. The other roles above are sometimes advertised by multinational companies.
What certifications do you need to be HR?
Here are some popular certifications for professionals looking to pursue human resource management in Nigeria;
Associate Professional in Human Resources – International – aPHRi
Organized by HRCI, aPHRi is targeted at undergraduates, graduates, entry-level HR professionals, non-HR practitioners, and professionals looking to transition into a career in Human Resources.
Digital HR Specialist
Organized by the Academy to Innovate Human Resources (AIHR), digital HR specialist is focused on how technology works in synchrony with HR processes Like the previous certification, digital HR specialist is targeted at HR novices.
Professional in Human Resources – International – PHRi
Organized by HRCI, PHRi is targeted at HR professionals with at least two years of experience and looking to move up the career ladder.
SHRM Certified Professional – SHRM–CP
Organized by the Society for Human Resource Management (SHRM), SHRM-CP is targeted at individuals with a wealth of experience in HR who are seeking senior job positions.
Senior Professional in Human Resources – International – SPHRi
Organized by HRCI, SPHRi is organized for seasoned professionals with 4 – 7 years of experience in Human Resource Management depending on their basic certification level – from diploma to master's degree. Seasoned professionals take SPHRi in order to qualify for promotion into senior or management roles.
SHRM Senior Certified Professional – SHRM–SCP
SHRM-SCP is an SHRM certification designed for HR professionals looking to upgrade their careers to executive or manager levels within two years Eligibility for SHRM-SCP depends on whether you already have an HR-related certification or not.
Global Professional in Human Resources – GPHR
GPHR is the highest level of international certification offered by HRCI. Like its name, GPHR is targeted at HR professionals whose work transcends borders. It exposes the candidates to the rules and regulations that govern human resources across international borders and helps them manage teams built across the globe.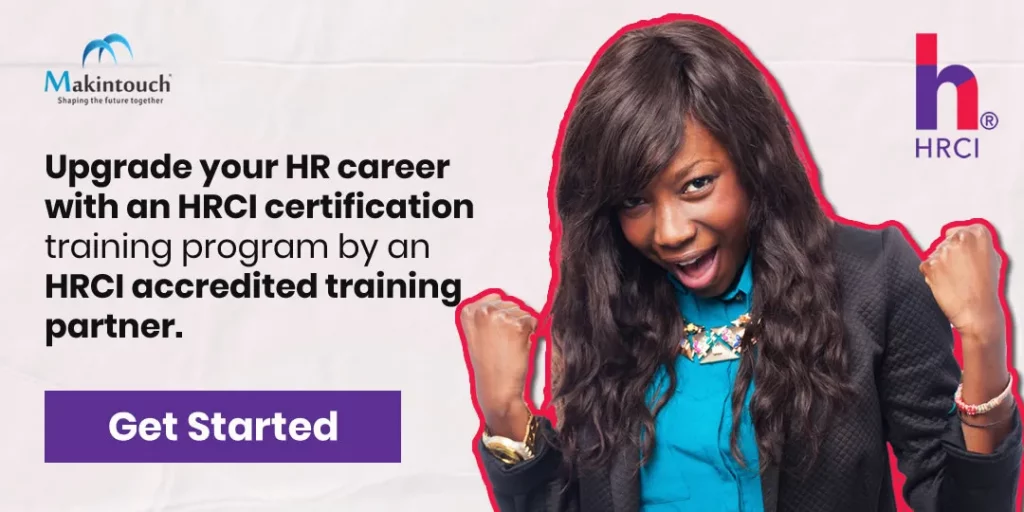 How much is HR certification in Nigeria?
The table below shows how much it costs in Naira to get the certifications highlighted above. These prices also include average training costs for these HR certifications in Nigeria.
| | |
| --- | --- |
| Certification | Cost |
| aPHRi | ₦260,000 |
| PHRi | ₦320,000 |
| SPHRi | ₦580,000 |
| SHRM-CP | ₦370,000 |
| SHRM-SCP | ₦450,000 |
| GPHR | ₦740,000 |
How do I get certified in human resources in Nigeria?
To get an HR certification in Nigeria, you need to seek the advice of an HRCI accredited training company in Nigeria or an SHRM partner. These companies can take an audit of the level you are in the HR industry and proffer the best HR certification based on your goals.
In addition to consultation on what is best for you, accredited HR training companies can help you cut costs by making special vouchers available to you due to their partnership with exam bodies. They also provide you with the most recent resources and practice assessment tests to help you prepare for the certification exam.
Makintouch Consulting is a leading IT & Business Management Training provider in Nigeria. We are constantly providing world-class training, using the best technologies and professionals.
We are certified partners of Microsoft, AWS, Cisco, CompTIA, Loyalist exams (AXELOS), Wiley, Tomwims(APMG), Open Group, and members of DPR, NSITF, OGTAN, NIWIIT, WITSA, ITAN, and many more prestigious professional bodies.
Especially for human resource certifications, we are an accredited partner of HRCI in Nigeria. We have relevant resources and practice tests you'll need to ace your HRCI certification exams.
Our HR facilitators are professionals in the field who give first-hand and practical classes based on their experience.
Contact us today for your HR certification programs.