AWS (Amazon web services) is a comprehensive cloud computing platform provided by Amazon that includes a mixture of Infrastructure as a service (IaaS), Platform as a service (PaaS), and Package Software as a service (SaaS). AWS is designed to be the most flexible and secured cloud computing environment available today. The core infrastructure is designed to meet the security requirements of the military, global banks, and other high-sensitivity institutions. AWS Cloud Practitioner is the first level course a beginner should take before adventuring into other levels like the solutions architect, certified developers, Certified SysOps Administrator, etc. This article discusses AWS Cloud Practitioner.
An AWS Cloud Practitioner is a technical professional who is well-versed in cloud computing and has a basic understanding of AWS to support cloud operations across diverse sectors and industries.
5 Courses to Prepare for AWS Cloud Practitioner Certification
The certification helps companies find and develop employees with the necessary cloud implementation experience. Additionally, it shows a basic knowledge of AWS, which is helpful when applying for cloud-related jobs.
AWS provides a variety of courses from which to pick to help you prepare for this exam. The following are courses created to help people prepare for the exam:
The AWS Cloud Foundations Learning Plan – AWS learning plans offer a suggested selection of courses to get beginners started. Whether they are in a technical or business-facing role, the Foundations Learning Plan aids people who are new to AWS technology in gaining a general grasp of the AWS cloud environment.
Once the candidates complete this course, they will have a better understanding of the basic concept of AWS cloud foundation, the core AWS services, its security controls, underlying architecture, pricing, and support options.
The learning plan includes a number of different learning components, such as containerization in AWS, cloud-based job responsibilities, Amazon Simple Storage Service (Amazon S3), Amazon Virtual Private Cloud (VPC), AWS Organizations, AWS Identity and Access Management (IAM), and Amazon Elastic Load Balancer.
AWS Cloud Practitioner Essentials – The Cloud practitioner essentials targets individuals from diverse backgrounds, regardless of technical function. It covers a wide range of topics, from AWS cloud foundations and services to security and architecture.
Individuals in sales, legal, marketing, business analysts, project managers, and IT-related fields can all benefit from this course. It will teach individuals how to:
Understand the difference between on-premise, single cloud, and hybrid cloud implementations, along with their implications.
Find suitable solutions for business use cases using available AWS services and features.
Formulate account management, invoicing, and cost control strategies.
Use the various pricing tools available on the AWS cloud platform.
Manage global cloud infrastructure using AWS data centers.
Exam Prep: AWS Certified Cloud Practitioner – Participants will be able to evaluate their readiness for the AWS Certified Cloud Practitioner exam during this foundational-level course.
Our facilitators will ensure that the candidates are completely ready to sit for this exam by impacting their practical knowledge, the cloud environments, and the ability to solve problems.
They will also go over sample certification questions in each area, practice skills with hands-on exercises, test their knowledge with practice question sets, learn strategies for spotting wrong answers by understanding the ideas examined on the exam, and complete a full-length approved practice test to determine their strengths and shortcomings in each domain area.
This course teaches individuals how to:
Provide a rationale for why the AWS cloud is beneficial and how the AWS shared responsibility model operates.
Recognize the importance of security best practices.
Learn about the pricing, economics, and billing processes related to Amazon Web Services (AWS).
Describe AWS' main services, such as computing, networking, databases, and storage, and their role in terms of their importance to customers.
Analyze a particular AWS service's suitability for frequently-faced use cases.
AWS Cloud Development Kit Primer – This course introduces you to the Amazon Web Services Cloud Development Kit (AWS CDK). This course shows how to model, provide, modify, and delete cloud application resources using well-known programming languages.
It leads programmers through the best practices for developing reusable components that abide by the organization's security, compliance, and governance standards. beginners will be able to use objects, loops, and conditions to expedite and add logic to the development and implementation process once they have completed the course.
The students should be familiar with AWS services, such as AWS Cloud Formation, before enrolling in this course. They must have finished the technical courses Developing on AWS or something similar. it is recommended that candidates have a Cloud Practitioner Essentials certification. Or, they may bring equivalent experience and at least one year of prior experience as an AWS developer.
This course teaches candidates how to:
State the purpose of the AWS Cloud Development Kit (CDK).
Explain the main components of AWS CDK.
Describe the key ideas utilized with AWS CDK.
Interact with the AWS CDK command-line interface to deploy an app or stack.
Design AWS CDK constructs.
AWS Cloud Essentials for Business Leaders – Participants in this course learn the basic concepts of cloud computing and how they can be applied to support an organization's operational goals. It explores the advantages and opportunities that cloud computing offers. It also covers security and compliance to assist line of business (LOB) professionals, IT leaders, and execs in facilitating more effective interactions. The training does not need any previous IT or cloud expertise.
This course teaches individuals how to:
Identify the value proposition for cloud computing in various business use cases
Formulate and implement the ideal cloud business model
Explore and leverage the key properties of cloud computing
Select and enforce the most essential cloud computing security practices for an organization
Use the AWS Cloud Value Framework to benchmark performance and find new value-generating opportunities
How much does AWS Cloud Practitioner certification cost?
AWS Cloud Practitioner costs $100 for the certification exam. This is about ₦62,000 in Nigerian currency depending on the rate. Read more
The AWS Certified Cloud Practitioner certification is suitable for candidates from both business and technical backgrounds as long as they can show that they have a functional understanding of the AWS cloud environment.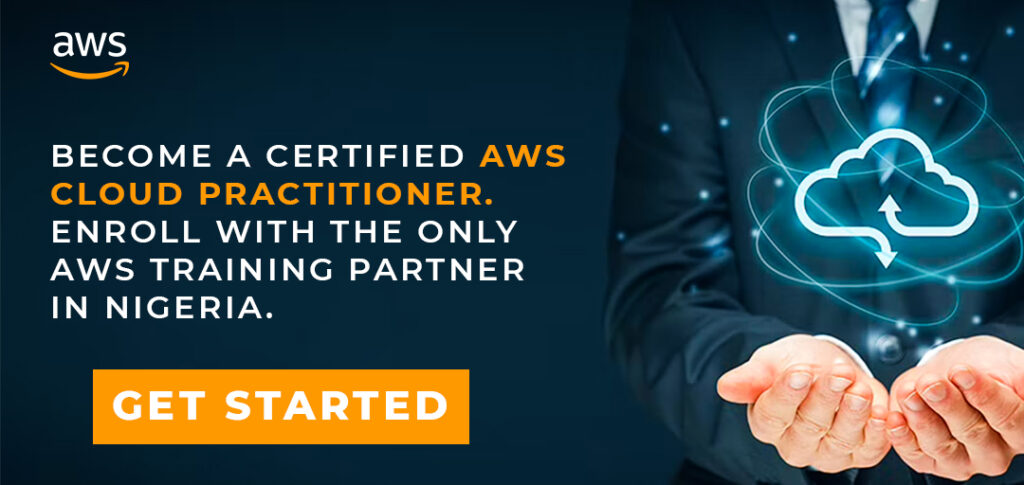 Do AWS certifications expire?
AWS Certification is valid for three (3) years from the day the certification was earned. You must rectify this to keep your AWS certification current and active. AWS sends reminders before your certification expires, but it is your responsibility to keep it in a current state (s). The recertification process shows that you are up to date on practices and technology, sustaining or even increasing the value of certification over time.
Does AWS require coding?
No, you don't need to learn how to code to learn AWS, and at the same time, you also need to know how to code depending on the position you are aiming to occupy as an AWS professional. Eg. As an AWS DevOps or Engineer, you need to know how to code.
What are the job opportunities and salaries for AWS cloud practitioner certification?
| | | |
| --- | --- | --- |
| | Job Positions | Annual Salary |
| 1. | AWS Cloud Solution Architect | $154,995 |
| 2. | AWS Cloud Security Engineer | $155,305 |
| 3. | AWS Architect | $158,668 |
| 4. | AWS Cloud Infrastructure Architect | $158,900 |
| 5. | AWS Security Engineer | $163,400 |
Step Up Now
Now that you know about AWS cloud practitioner.
What is stopping you from taking that next step?
Makintouch Consulting is the only accredited training partner for AWS in Nigeria. Therefore, we are in the best position to answer any questions about AWS training in Lagos, contact us now.
If you would like to learn more about our AWS training program, you can visit our page dedicated to AWS training in Lagos and you can also find other AWS training.
AWS training cost is quite small an investment for the benefits you will get from it in the future. Get started now!