In today's dynamic and competitive business landscape, professionals in project management are continually seeking ways to distinguish themselves and advance their careers. The Project Management Professional (PMP) certification has emerged as a gold standard, offering a multifaceted value proposition. Beyond the mere acquisition of a credential, PMP certification brings with it enhanced professional credibility, deep knowledge, and the promise of increased earning potential.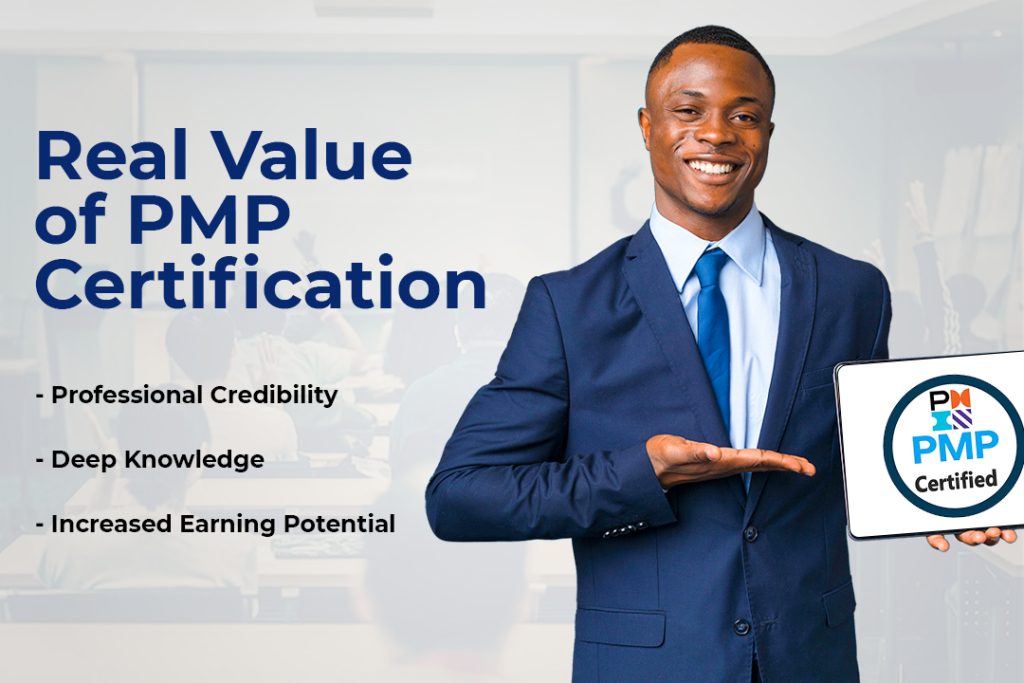 Professional Credibility:
Global Recognition: The PMP certification, offered by the Project Management Institute (PMI), is globally recognized and respected. It signifies a professional's commitment to excellence in project management and adherence to a stringent code of ethics. Employers worldwide acknowledge and value the credibility associated with PMP-certified individuals.
2. Industry Validation: Achieving PMP certification is not a simple feat. Candidates must demonstrate a substantial level of experience and pass a rigorous examination that assesses their project management knowledge and skills. This validation from an industry-respected organization like PMI sets PMP-certified professionals apart as proven experts in their field.
Deep Knowledge:
Comprehensive Skill Set: PMP certification goes beyond basic project management knowledge. It equips professionals with a comprehensive skill set, covering areas such as risk management, stakeholder engagement, quality assurance, and more. This broad knowledge base allows PMP-certified individuals to approach projects holistically, addressing challenges with a well-rounded understanding.
2. Best Practices and Methodologies: PMP certification is grounded in the PMI's Project Management Body of Knowledge (PMBOK), a framework that encapsulates best practices and methodologies in project management. PMP-certified professionals are not only familiar with these practices but are adept at applying them in real-world scenarios, ensuring efficiency, and mitigating risks throughout the project lifecycle.
Increased Earning Potential:
Salary Advancements: Numerous studies consistently show that PMP certification positively impacts earning potential. Employers value the advanced skills and proven expertise that PMP-certified professionals bring to the table, resulting in higher salary offers and better prospects for salary negotiations.
2. Career Advancement Opportunities: PMP certification is often a prerequisite for senior-level project management roles. As organizations prioritize certified professionals to lead their strategic initiatives, PMP-certified individuals find themselves in prime positions for career advancement. Whether aspiring to become a project manager, program manager, or even a C-level executive, PMP certification opens doors to new and exciting opportunities.
Conclusion:
The real value of PMP certification extends far beyond the credential itself. It is a testament to an individual's commitment to excellence, a showcase of deep project management knowledge, and a key to unlocking increased earning potential. As the business world becomes more project-centric, the demand for skilled project managers continues to rise, making PMP certification an invaluable asset for those looking to thrive in their project management careers. So, invest in your professional future, distinguish yourself, and elevate your career with the globally recognized PMP certification.