Become A Certified Ethical Hacker (CEH)
The Certified Ethical Hacker program is the pinnacle of the most desired information security training program any information security professional will ever want to be in.
​
This ethical hacking course puts you in the driver's seat of a hands-on environment with a systematic process. Here, you will be exposed to an entirely different way of achieving optimal information security posture in their organization; by hacking it! You will scan, test, hack and secure your own systems. You will be taught the five phases of ethical hacking and taught how you can approach your target and succeed at breaking in every time! The five phases include Reconnaissance, Gaining Access, Enumeration, Maintaining Access, and covering your tracks!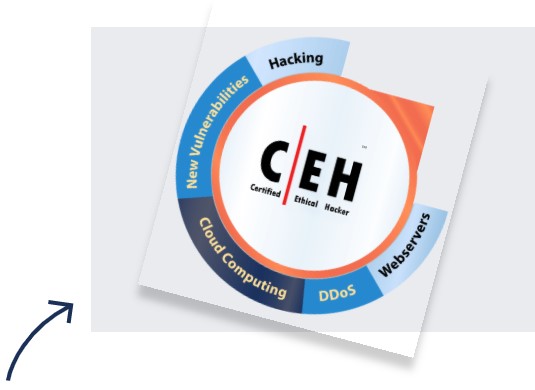 To beat a hacker, you need to think like one…
Ethical Hacking is the process of proactively penetrating systems, to which one has official permission to do so, with a view to determining whether vulnerabilities exist and then to undertake the necessary preventive, corrective, and protective countermeasures before an actual compromise to the systems can occur.
Available Dates: Saturdays
This course will significantly benefit security officers, auditors, security professionals, site administrators, and anyone who is concerned about the integrity of the network infrastructure.
​
The knowledge and skills that a learner must have before attending this course is as follows:
– None
Upon completing this course, the learner will be able to:
Master an ethical hacking methodology that can be used in a penetration testing or ethical hacking situation. You walk out the door with ethical hacking skills that are highly in demand, as well as the internationally recognized Certified Ethical Hacker certification! This course prepares you for EC-Council Certified Ethical Hacker exam 312-50.
Introduction to Ethical

Hacking

Footprinting and

Reconnaissance

Scanning Networks

Enumeration

System Hacking

Malware Threats

Sniffing

Social Engineering

Denial of Service

Session Hijacking

Hacking Webservers

Hacking Web

Application etc.
Preparation for the CEH examination will be a primary focus throughout this training course. Delegates will explore all four areas of the CEH exam, and candidates will also be provided with a complete revision programme consisting of knowledge assessments, discussions, exercises, and model questions.
We respect your privacy. Unsubscribe at any time.