COMPTIA A+ CERTIFICATION EXAM : CORE 1 (220-1001)
CompTIA A+ certified professionals are proven problem solvers. They support today's core technologies from security to cloud to data management and more. CompTIA A+ is the industry standard for launching IT careers into today's digital world. It is the only industry recognized credential with performance-based items to prove pros can think on their feet to perform critical IT support tasks in the moment. It is trusted by employers around the world to identify the go-to person in endpoint management and technical support roles. CompTIA A+ is regularly re-invented by IT experts to ensure that it validates the core skills and abilities demanded in the workplace.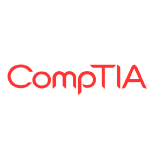 The Official CompTIA A+ Core 1 Study Guide (220-1001) has been developed by CompTIA for the CompTIA certification candidate. Rigorously evaluated by third party subject matter experts to validate adequate coverage of the Core 1 exam objectives, the Official CompTIA A+ Core 1 Study Guide teaches the essential skills and information required for the CompTIA certification exam (220-1001).
After reading this study guide you will understand how to:
Install and configure PC system unit components and peripheral devices.
Install, configure, and troubleshoot display, multimedia devices, storage devices, and internal system components.
Explain network infrastructure concepts.
Configure and troubleshoot network connections.
Implement client virtualization.
Support and troubleshoot laptops, mobile devices and print devices.
.
To learn with the CompTIA A+ Certification Study Guides and prepare for your exam, you should have successfully completed the CompTIA IT Fundamentals course or have some basic experience using a PC, Windows, and browsing the web. Specifically, we recommend that you have the following skills and knowledge before starting this course:
Recognize the main components of a PC as well as storage media such as USB drives and DVD.
Start the computer and navigate the operating system desktop.
Use Windows Explorer to create directories and subdirectories and manage files.
Use a web browser to view websites.
This course is designed for individuals who have basic computer user skills and who are interested in obtaining a job as an entry-level IT technician. This course is also designed for students who are seeking the CompTIA A+ certification and who want to prepare for the CompTIA A+ Core 1 220-1001 Certification Exam.
Lesson 1: Installing and Configuring PC Components
Topic A: Use Appropriate Safety Procedures
Topic B: PC Components
Topic C: Common Connection Interfaces
Topic D: Install Peripheral Devices
Topic E: Troubleshooting Methodology
Lesson 2: Installing, Configuring, and Troubleshooting Display and Multimedia Devices
Topic A: Install and Configure Display Devices
Topic B: Troubleshoot Display Devices
Topic C: Install and Configure Multimedia Devices
Lesson 3: Installing, Configuring, and Troubleshooting Storage Devices
Topic A: Install System Memory
Topic B: Install and Configure Mass Storage Devices
Topic C: Install and Configure Removable Storage
Topic D: Configure RAID
Topic E: Troubleshoot Storage Devices
Lesson 4: Installing, Configuring, and Troubleshooting Internal System Components
Topic A: Install and Upgrade CPUs
Topic B: Configure and Update BIOS/UEFI
Topic C: Install Power Supplies
Topic D: Troubleshoot Internal System Components
Topic E: Configure a Custom PC
Lesson 5: Network Infrastructure Concepts
Topic A: Wired Networks
Topic B: Network Hardware Devices
Topic C: Wireless Networks
Topic D: Internet Connection Types
Topic E: Network Configuration Concepts
Topic F: Network Services
Lesson 6: Configuring and Troubleshooting Networks
Topic A: Configure Network Connection Settings
Topic B: Install and Configure SOHO Networks
Topic C: Configure SOHO Network Security
Topic D: Configure Remote Access
Topic E: Troubleshoot Network Connections
Topic F: Install and Configure IoT Devices
Lesson 7: Implementing Client Virtualization and Cloud Computing
Topic A: Configure Client-Side Virtualization
Topic B: Cloud Computing Concepts
Lesson 8: Supporting and Troubleshooting Laptops
Topic A: Use Laptop Features
Topic B: Install and Configure Laptop Hardware
Topic C: Troubleshoot Common Laptop Issues
Lesson 9: Supporting and Troubleshooting Mobile Devices
Topic A: Mobile Device Types
Topic B: Connect and Configure Mobile Device Accessories
Topic C: Configure Mobile Device Network Connectivity
Topic D: Support Mobile Apps
Lesson 10: Installing, Configuring, and Troubleshooting Print Devices
Topic A: Maintain Laser Printers
Topic B: Maintain Inkjet Printers
Topic C: Maintain Impact, Thermal, and 3D Printers
Topic D: Install and Configure Printers
Topic E: Troubleshoot Print Device Issues
Topic F: Install and Configure Imaging Devices
What Our Students Have to Say
"As a client of Makintouch, I would recommend the company as a leading PC-based training school. When we needed half day courses to fit the schedules of our employees they were able to customize them to meet our company's needs" – Java Struts
I would recommend this course as it is up to date with the current release which is quite rare as things move on so fast. The classroom set up worked well and the labs were good and relevant to the course.' – Oracle