In Nigeria, maintenance can be defined as one of our major problems, from the highest level to the lowest level of the hierarchy, we don't plan to maintain as much as we plan to deliver an item or anything in general. In a Tech-based organization, ITIL certification is one of the most important certifications, especially for the management of the organization. To reach this level of becoming a manager of an organization, you need to include the ITIL certification to your list of certifications. This article hereby describes "how much is ITIL Certification in Nigeria?"
The cost of ITIL varies depending on the location of the training center and also the version of ITIL. In Nigeria, ITIL Certification costs between ₦40,000 to ₦250,000. This is dependent on the state of the training center in Nigeria because the training prices vary depending on the state of the country where the training is held. It also depends if the training is virtual or physical.
What are the levels of ITIL certification?
This is the path you should follow in taking your ITIL Certification. Starts from the Foundational level to the Managing Professional (MP) or Strategic Leader (SL). You can stop at either path or if you choose to complete both paths, you'll be eligible to earn the ITIL Master designation.
ITIL Foundation – This is the entry-level module and it is a must for anyone that wants to acquire the ITIL Certification. You need to learn the basics. Creating valuable products and services for customers and stakeholders, the basic principles of ITIL 4, the dimensions of service management, best practices of ITIL 4, and key concepts of Lean, agile, and DevOps.
ITIL Managing Professional (MP) – This MP Certification is for IT professionals who work across organizations with technology and digital teams. It involves the practical and technical abilities needed to manage IT projects, teams, and workflows. To complete the ITIL MP Certification, you'll need to take a series of exam modules.
ITIL Strategist Leader (SL) – The ITIL SL Certification is applicable to all digitally enabled services in an organization, not simply IT operations. This certification analyzes how information technology affects and informs business strategy. To earn your ITIL SL certification, you'll need to take exams for two modules.
ITIL Strategist Direct Plan & Improve
ITIL Leader Digital & IT Strategy
ITIL Master – After the completion of both modules (ITIL Managing Professional and ITIL Strategic Leader) with certification, you're now qualified for the ITIL Master designation. At least five years of experience working in ITSM at the leadership, management, or advisory level is required to become an ITIL Master.
There is no training course or set syllabus for the ITIL Master title, which demands a strong background in ITSM and substantial hands-on experience working with ITIL. You'll be tested in a context of your choosing, so the content will be unique to your personal experience
Benefits of ITIL Certification
Professionals will learn how to use best practice techniques in a methodical and professional manner.
it helps improve employment possibilities, with good offers.
It helps in the identification and concentration of the organization's greatest value activities.
Increases a professional's potential to identify, plan, and support an organization's IT services, leading to increased productivity, efficiency, and effectiveness.
Provides expertise and assists a professional in focusing on the demands of consumers and the user experience rather than on technology concerns.
What can you do with ITIL certification?
If you're considering investing in an ITIL certification, here's a list of possible career paths.
Information Technology Project Manager – An information technology (IT) project manager is a professional that helps organizations achieve their IT goals by planning and executing projects.
IT project managers might lead projects to introduce new software solutions, scale IT processes, or switch cloud providers for an organization.
Information Technology Manager – Monitoring daily operations, including server hardware, software, and operating systems.
Coordinating technology installations, upgrades, and maintenance. Selecting and purchasing new and replacement hardware and software, when necessary.
Service Delivery Manager – A service delivery manager is responsible for making sure that services are being seamlessly delivered to the clients of an organization. They are in charge of a variety of tasks, such as leading project teams, rectifying reliability issues, monitoring progress, tracking KPIs, and managing budgets.
Senior Project Manager – A Senior Project Manager, or Project Director, is responsible for overseeing the planning and implementation of an entire project through budgeting, hiring team members, sourcing suppliers, and planning the project release.
Information Technology Director – An IT director is responsible for the management, strategy, and execution of IT infrastructure for an organization. Typical job duties include: Overseeing technical projects in alignment with organizational goals. Directing the effective delivery of networks, development, and disaster recovery systems and processes.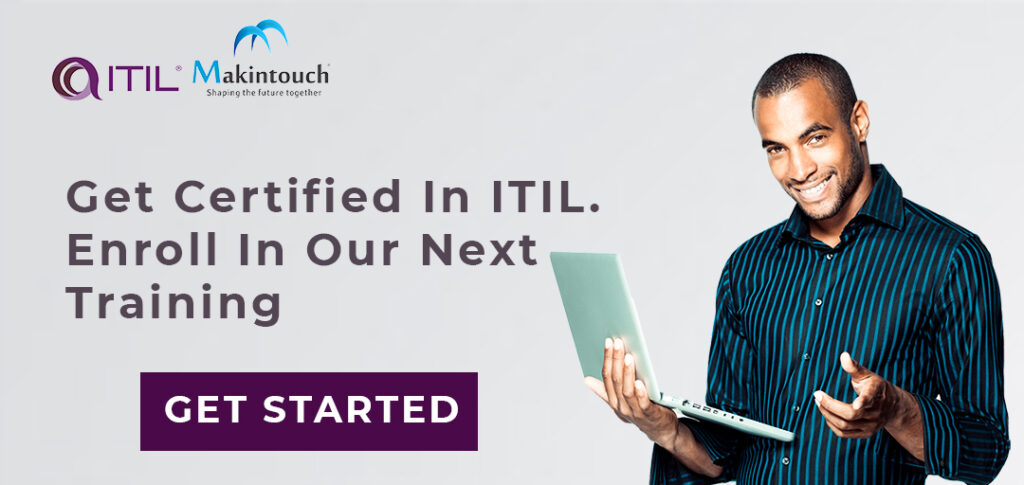 Average Salary for an ITIL Certification Holder
Every certification you have increases the opportunity for you to earn more than you were earning before you had that certification, just as the ITIL Certification will boost your earnings. These are the following job position you can get as an ITIL Certification holder.
| | |
| --- | --- |
| Job Position | Average Salary |
| Chief Information Officer | $188,388 |
| Vice President of Information Technology | $164,211 |
| IT Director | $136,004 |
| IT Manager | $102,535 |
| Service Delivery Manager | $100,039 |
| IT Project Manager | $96,377 |
| IT Business Analyst | $72,852 |
Register with us Now!
Now that you know how much it costs to acquire an ITIL certification in Nigeria.
You can visit our website www.makintouchconsulting.com for more information about ITIL paths, we will assist you with your certification process and you can also speak to our customer service if you are not satisfied with the information on the website and still need more information, we are always there for you.
Makintouch Consulting is a training organization that takes training and certifications for courses like this, you can easily check us out at 24, Bamishile street, off Allen Road, Ikeja, Lagos.
If you would like to take your cybersecurity certification, you can visit our page and register with us now!